Thermal Labels
Dispensary Labels And Prescription Folders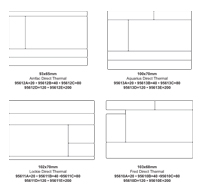 Features
We supply Dispensary labels in the following Thermal 5-UP formats:
FRED 5 Format 103 mm x 68 mm
LOCKIE Format 102 mm x 70 mm
AMFAC Format 93 mm x 65 mm
AQUARIUS Format 100 mm x 70 mm
500 labels per roll – Up to three (3) colours (1 colour must be red).
We also supply Repeat Prescription Folders in gloss paper, printed on one side in full colour.
These are available in either 130 gsm or 300 gsm.